Melbourne Rovers was formed in June 2008, as a LGBTIQ soccer club to foster the playing of soccer so as to achieve the general aims of physical and social fitness, health and recreation. Melbourne Rovers are a mix of players from different backgrounds, who range in age from 18 to 55. While many players in the club identify as same sex attracted, there are also a number of players and officials who identify as bi-sexual or straight. Sexuality is not an obstacle for playing for Melbourne Rovers and their affiliated clubs.
The Melbourne Rovers are a Social Soccer Team. During the Spring and Summer there is the Summer 7s Comp. During the Winter Season the Melbourne Rovers play under FFV Affiliated Clubs the Men play for the Yarra Jets. While the Women are spread across a few clubs; Yarra Jets, Darebin United and Maribyrnong Swifts all clubs support a fun and inclusive environment, bringing together many backgrounds.
If you are interested in joining the Melbourne Rovers as a non-player, we are always looking for volunteers to help out please contact us.
MELBOURNE ROVERS SOCCER CLUB COMMITTEE
President: Heath Wilson
president[at]melbourneroverssc.org.au
Secretary: Justin Anderson
secretary[at]melbourneroverssc.org.au
Treasurer: Jason Asselin
treasurer[at]melbourneroverssc.org.au
Contact us for more information.
PRIDE FOOTBALL AUSTRALIA
Pride Football Australia aims to bring together football players and supporters, regardless of their gender or sexuality, to share their love of the game and promote equality, acceptance and diversity. Since 2009 the Melbourne Rovers' Men have competed against the Sydney Rangers in the annual derby match the Justin Fashanu Cup. In 2012 this was extended to the Melbourne Rovers' Women and the Sydney Fly Bats to compete in the Julie Murray Cup. Together the Julie Murray Cup and the Justin Fashanu form the Pride Football Australia competition.
JULIE MURRAY
Wherever she's gone, Julie Murray's been a trailblazer. Beginning her international career aged just 15 in 1986, Murray went on to achieve a raft of firsts: representing Australia at the first Women's World Cup, becoming the country's inaugural International Player of the Year and the first Aussie woman to be signed both to an overseas club (Fortuna Hjorring, Denmark) and then the US Women's League (Bay Area CyberRays). She played for Australia 67 times in a glittering career that saw her score 19 goals and don the green and gold at the Sydney Olympics – another footballing first. Murray captained The Matildas at two World Cups, was inducted into FFA's Hall of Fame in 2008 and has been a FIFA Ambassador for Women's Football since 2005.
Previous Julie Murray Cup winners:
2016: Flying Bats (Host: Sydney)
2015: Melbourne Rovers (Host: Melbourne)
2014: Flying Bats (Host: Sydney)
2013: Melbourne Rovers (Host: Melbourne)
2012: Melbourne Rovers & Flying Bats (Host: Sydney)
JUSTIN FASHANU 
Justin Fashanu was an English footballer, who played for a variety of clubs between 1978 and 1997. His 1981 transfer to Nottingham Forest made him Britain 's first black footballer to command a £1million transfer fee. In 1980, he won the BBC Goal of the Season award, for a very spectacular goal against Liverpool (see below). In 1990 Fashanu encountered hostility after becoming the first prominent footballer to identify himself publicly as gay in an interview with the tabloid press. Many former colleagues spoke out in anger against him, stating that gays had no place in a team sport, and his brother John publicly disowned him. Although he claimed that he was generally well accepted by his fellow players, he freely admitted that they would often joke maliciously about his sexual orientation, and he also became the target of constant crowd abuse because of it.
Fashanu agreed an exclusive with The Sun tabloid to come out as gay. They ran the headline as "£1m Football Star: I AM GAY" on 22 October 1990. A week later, his brother John Fashanuagreed an exclusive with The Voice under the headline "John Fashanu: My Gay Brother is an outcast." Fashanu was listed at number 99 in the Top 500 Lesbian and Gay Heroes in The Pink Paper (UK), 26 September 1997. A decade after his death, Fashanu is still the only professional footballer in the world to disclose he was gay according to the BBC.
Previous Justin Fashanu Cup winners:
2016: Melbourne Rovers (Host: Sydney)
2015: Sydney Rangers (Host: Melbourne)
2014: Sydney Rangers (Host: Sydney)
2013: Sydney Rangers (Host: Melbourne)
2012: Melbourne Rovers (Host: Sydney)
2011: Sydney Rangers (Host: Melbourne)
2010: Melbourne Rovers(Host: Sydney)
2009: Sydney Rangers (Host: Melbourne)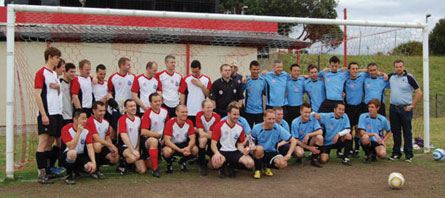 LINKS & FURTHER INFORMATION